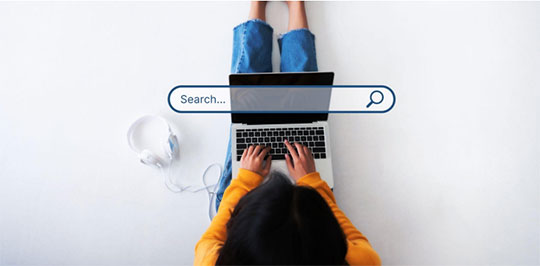 Social media is impacting healthcare consumers, with 60% of our global population engaging on social media for an average of 2 hours and 24 minutes a day.1 The inclusion of social media in your digital marketing strategy can be one of the most effective and affordable tools to help educate and engage your patients. But did you know that social media also plays an important role in your search engine optimization or SEO?
Social media creates exposure for your medical services and practice's brand name, which drives inbound traffic to your practice website. The larger your audience, the more inbound clicks you receive, which eventually leads search engines to improve your page rankings.
How can social media positively impact your online rankings? Social media can enhance your search engine optimization by:
Increasing Your Content's Performance
Creating valuable content for your patients is only half the equation. There must be a way for them to find it. Social media can make your content accessible to your current and potential patients.
Addition of Backlinks
Valuable content on social media usually includes backlinks, which are links on websites that point to another website or URL. Pages that include backlinks tend to rank higher on Google. Linking back to your site from your social channels like YouTube, Facebook, Instagram will help improve your search rankings.
Establishing Authority
A relevant and engaging social media presence can help establish authority. Sharing consistent and valuable content can help gain expertise, authority, and trustworthiness to help your content rank higher.
Increasing Brand Presence
A strong social media presence can help your practice rank well in search results for your brand name and/or healthcare services keywords.² Social profiles can show up in search results, and increase brand recognition, supporting the overall SEO goals for your practice.
Boosting Local Rankings
Increasing the number of followers and positive reviews can help your business pop up onlocal Google searches, which are highlighted in your Google My Business listing. Posting regularly on Google My Business can increase your local search ranking, and potentially drive more traffic to your practice's website.
When your practice regularly publishes quality patient education content, such as videos or blog posts, your patients and their families can read and share your articles with their friends and followers through social media. Building your social presence by sharing consistent and unique patient education content will ultimately help increase internet traffic to your practice's website.
SoClients can help you grow your social media presence, so you can focus on helping patients. Many of our healthcare clients see an increase in inbound website traffic up to 35 percent from social media. Social media can have a positive impact on your medical practice and should be a key component of your digital marketing strategy.
Holly Breen Olds has served the healthcare industry with over 20 years of expertise in healthcare marketing for physicians, hospitals, and the medical device sector across the US.
1. https://www.smartinsights.com/social-media-marketing/social-media-strategy/new-global-social-media-research/